iMac: Doorstop to Desktop
February 4, 2006 - 10:40pm
The 400 mHz Indigo slot-loading iMac refused to start-up. Plugging a monitor into the back didn't work either (a 13 inch Unisys). No amount of button pushing or battery changing was going to revive it. After a lot of research on the web, a solution was found. Major surgery was needed. It is now sitting on a desk, bare and running OS 9 and OS 10.2.5. There is a 2 inch fan blowing on the motherboard to keep things cool. When I can afford it I will re-case it, maybe in a case of my own design.
Here are the two new connectors/boards I used to get it working again. I don't have a digital camera so I scanned them.


New Video Cable
The first is the new video cable made from a Mac internal floppy cable, the magnet from the original cable and a new VGA connector with hood. It has worked very well and I haven't seen any color shifting from using the original cable and the VGA connector. I slit the cable between the wires, in the middle in pairs and at the connector end individually. (Based on a PC modding technique called 'cable rounding'.) I was able to solder the connector on faster because I could count from either end to find wires. The pinouts for the video connector, and more, can be found on this page: http://www.hardmac.com/articles/39/page3
The wiring diagram I used is on this site: http://www.cryogenius.com/hardware/imac/
New Power Board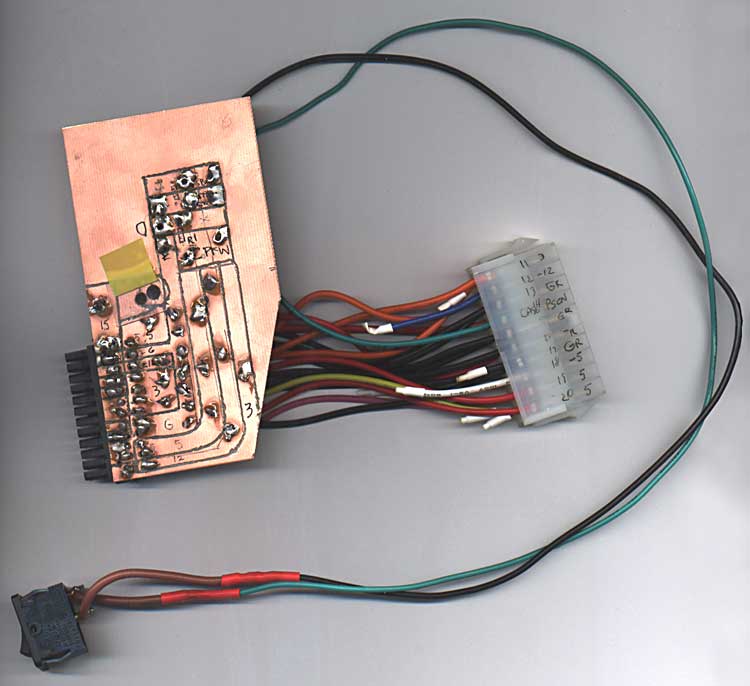 The second and third pictures are the new power board and all the connectors and the PSU switch. It doesn't have Soft Power, maybe in the future I'll make up a little Inverter, see Soft Power below. For now it works. Flipping the rocker switch grounds the Power On line on the power supply. Then I pushed the power button on the front of the iMac. On the bottom of the power board you can see the lines where I used a dremel to cut out the channels. Chemical free. Got the idea from http://www.cryogenius.com/hardware/imac/
Specifically this page: http://www.cryogenius.com/hardware/pcb/
I had a hard time trying to desolder the iMac connector from the original power board, I ended up using side-cutters to 'chew' it out. Then I carefully desoldered any remaining solder and straightened the pins. To get it into the new holes in the circuit board I used a pair of tweezers to move individual pins until it slipped in. Once in place I soldered each of the pins to their new lines.
Then I soldered the wires from the ATX extender to the appropriate line using this site as a guide:
http://www.ct-scan.com/iMacATX/ using a board similar to: http://www.cryogenius.com/hardware/imac/
Here are a couple diagrams of the new powerboard.

Soft Power
To utilize Soft Power you need to have the Power On (line 14) and Ground (lines 3, 5, 7, 13, 15, 16 or 17) from the ATX power supply and the PFW (line 10) and +5VSB (line 6) from the iMac Video connector.
There are several ways to make the soft power circuit. Some use ICs and the some use Transistors.
IC - http://www.hardmac.com/articles/39/page2
IC - http://www.xlr8yourmac.com/systems/MacinPC_ATX_case/index.htm
Transistor - http://www.radiomods.co.nz/imactoatxconversion/
Transistor - http://www.cryogenius.com/hardware/imac/
IC & Transistors - http://www.webdrive.jp/mac/iMIU03e.htm
iMac Pinouts - Power, video, IDE
Also a link to a manufacturer that sells the connector ($1.04 US) for the power board if you don't want to desolder it.
http://www.hardmac.com/articles/39/page3
iMac Sites
Rev A & B 233-266 mHz iMac with Soft-Power start up
http://www.radiomods.co.nz/imactoatxconversion/
iMacDV 600 in a VCR case
http://www.macmod.com/content/view/192/2/
Discharging a CRT monitor properly (to prevent serious injury or death)
http://www.macmod.com/content/view/232/2/
iMac revival in French
http://pascal.monte.free.fr/imac
iMac 2000 Disassembly
http://www.r3uk.co.uk/content/view/45/61/
iMac Rev A Disassembly
http://www.r3uk.co.uk/content/view/47/61/
Resurrecting a Revision A 233 iMac (sometimes not available)
http://www.carnforth.co.uk/imac/index.php
Fairly comprehensive iMac conversion (different video connections)
http://www.ct-scan.com/iMacATX/