PiMPBook
Submitted by therayzor on June 22, 2004 - 3:35am
Ever since the introduction of the new case design with the G4 models, iBook owners have lamented Apple's decision to switch back to an opaque plastic case (as opposed to the translucent-painted case in previous models, which allowed for numerous case mods such as the TronBook, featured on this site.)
The new case, as stated above, is an opaque white polycarbonate plastic. The real trick here is finding a paint that settles in and binds properly - what's more, you need to find a test surface to practice on. Where am I going to find a test surface that perfectly mimics the iBook case, one that I won't mind defacing? Well, it hit me - the AC adapter for my 20gig iPod is made of the same material, and in fact, is almost identical to the iBook's AC adapter (just a bit smaller.) So, I bought a can of Krylon Flourescent Pink (what other color could a pimp-book be!), making sure I picked a paint that will bind to plastics. Out of curiosity, I contacted the folks at Krylon, and they said the paint was untested on polycarbonate surfaces.. so, with that in mind, I broke new ground.
I also tested some spray-on chrome, and my "secret weapon" - Krylon Clear Acrylic finish (this bad boy was my best friend in my Spiderbook hack.) It might be a bit hard to tell from the picture, but the finished pink looked quite nice, and was extremely smooth to the touch, mimicking the bare iBook surface nicely. The chrome dulled a bit with the finish, but still sparkled in the light.
The case was then masked and painted. I put on one coat, allowed it to dry, and then added a second. Once the second coat dried, I applied my "ink", and then finished it off with two coats of the Krylon finish.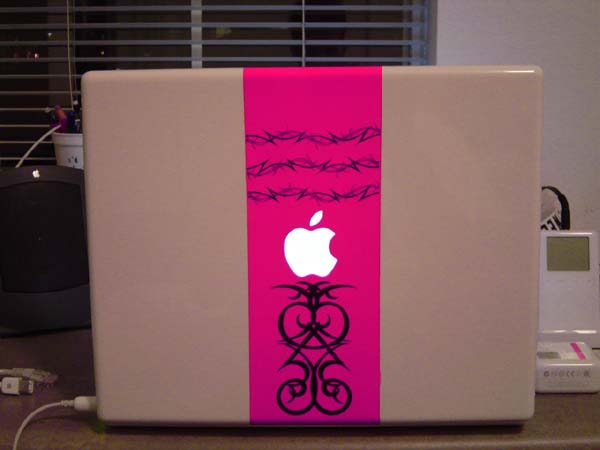 Voila. What's more, the paint glows an eerie flourescent orange under black light. Wicked. As a side note, although there are many finishes out there, I can't stress how well the Krylon worked - I'd strongly push for it if you're thinking of doing this yourself.
I might chrome the sides at another point.. if I do, I'll post an update. Measure twice, cut once, and have fun.