Urgent answers needed on DRAM and soldering for palm hack.
Hello All,
I have been offered a Palm V as a replacment for my broken handspring Visor deluxe. The palm V has the better screen and sure is better looking. The only problem...it only has a 2mb memory chip, whereas the visor had 8mb.
After research, the palm V can be upgraded by adding a 8mb dram chip and removing the 2mb chip. The dead visor thankfully has such a 8mb chip.
The solder points are tiny but I confident that my soldering is good enough. I am just unsure how to detach the chips. ...
Questions:
1. How much heat does it take to toast a dram chip? In other words how heatsensitive are they?
2. If heatsensitve should I try ChipQuik? http://www.chipquik.com/ I dont really want to use this as it could be hard to remove the compound...
3. Some sites say use a heatgun...but I think this would effect other components...so dont use?
4. So finally, just be careful and work around the chips with soldering wick and a tiny iron...?
I look forward to your answers...
Here is a pic: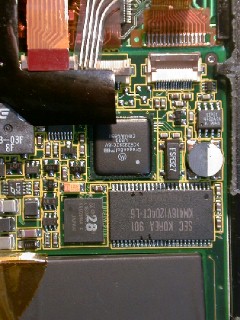 The dram chip is the one that says SEC KOREA 901. Its the one with the many pins at the bottem of the board.
Cheers
T