Lightning G3/500
Submitted by Tom Owad on January 31, 2004 - 3:21am
by Alison Friedman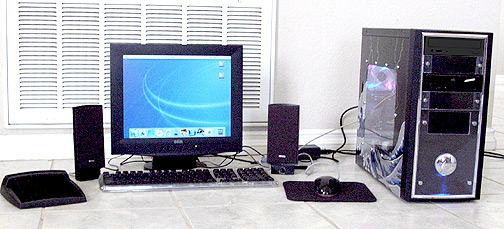 I have been painting macs for quite a while now, and I decided I wanted to paint an ATX-cased mac... My friend agreed to fund the effort and buy the finished product. It had to match his current decor, and another friend requested that it be a work of art and not just colors or basic shapes... So, I decided to do a japanese-style print influenced design. It would match his current LCD and look classy in most offices. I used thick cardstock and cut out stencils for each of the colors with x-acto knives, I then used cheap Walmart enamel spray paint, and silver paint pens for the detail-work. Add a clear coat, and you're done.
I chose a very inexpensive black and acrylic ATX mid-tower case from CompGeeks.com. They are local for me, so the total cost for the case, 400W power supply, LED fan, flat panel amplifier speakers, thumb screws, clear and metallic round cables, and a sound-activated blue tube light for the interior came to about $70...
I then went and gathered up the components I would need. The buyer requested it run OSX well... So I found the cheapest "buy it now" rev2 yosemite board on ebay (it came with a g3/350, a rage128, and 512MB of ram) for $125. I then donated the proc to a friend and bought a g3/450 zif for $70, added a quiet CPU fan, and overclocked the jumper settings to 500. A different friend donated a radeon 7000 32MB PCI vid card to replace the rage128. I used an older 18GB ATA HD I had from a former computer. I then found a cheap compatible 52x24x52x generic burner and painted it's face black. And lastly, a friend owed me a favor and bought me the 16x48x black DVD-ROM drive (also from compgeeks). Quite a nice set of components for fairly cheap...
I also intend to make one of those domed stickers for it before I deliever it to it's new home in June. It will have a small graphic similar to the full scene panel but simpler, and it will say "Lightning G3".
Special thanks goes to Tim Seufert for his custom backplate, power control board, and his tutorial on how to build an ATX-cased Yosemite: http://www.xlr8yourmac.com/systems/MacinPC_ATX_case/Blue_G3_to_ATX.htm The rest of you who donated objects and funds... Thank you greatly! This was a fun and rewarding project.