iMac G5
Submitted by kellni on April 7, 2004 - 8:05pm
When it came out in 1999 I bought an iMac G3/350 Blueberry. I was very happy with this machine all the years. Then some day the Modem didn't work anymore. Then some weeks ago I got an iMac DV 400 board from a friend in Sweden. He didn't know if it will work but He sent it to me anyway. I got it and put it in. And what wonder it worked!! So I have a full working and upgraded iMac now. But what to do with the board?? eBay?? No way man... But what else to do with it?? Some months ago I saw that PowerMacintosh Cube hack from a japanese guy who put a Cube Core into a self made G5 styled case. Yeah!! Thats what I want to do!
One thing was to get the G3 cooled. In the iMac it is placed onto the big alloy plate. I simply bought a Pentium cooler and milled it a bit so it fits on the iMac board.
After that i googled for a bit to find out how the iMac's connectors work. I found out how to connect a common Micro-ATX Power Supply and how to connect a VGA connector.
Finally all the adapters were made and the machine itself worked.
After that I tried to place the parts to get an idea how big the casing will be.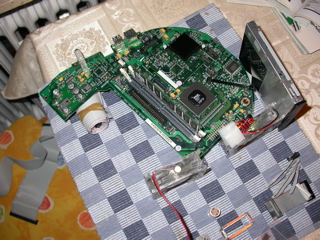 And now for the casing itself:
I used 2mm and 1mm thick Polystyrene plastic sheets. I got them in sizes of 2x1 metres from a local reseller and I use it to build accessories for my model planes and dioramas.
Then I placed the mainboard inside it and built the case around it.
Another thing were the perforated front- and back covers. Luckily i had a piece of perforated stainless steel plate that I used as a template. This way 2x half an hour of drilling and the holes were done!
After that I glued it in place.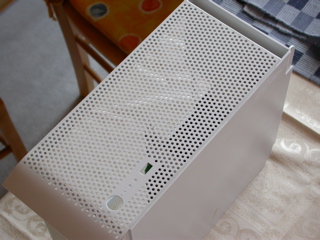 To bend the cover around the round edges I used one of my special tools...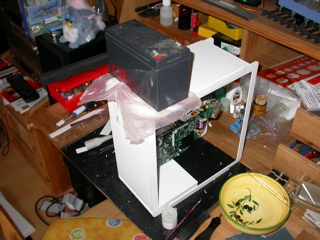 Here is the back cover.
Before i could have glued it in place i needed to make the housing for the connectors.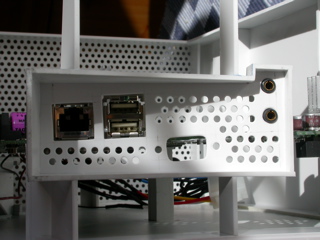 Then the rear cover took its place.
And then the handles were made. Because Polystyrene isn't very strong I needed to make an understructure.
After that it started to look complete (from the outside)
The inside only a bit...
Then came the hard part... All the gaps were filled and the whole outside was sanded with water and waterproof sanding paper...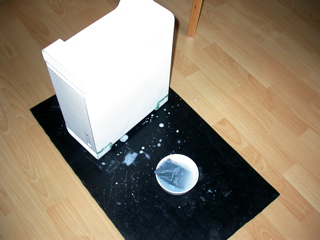 A very dirty work!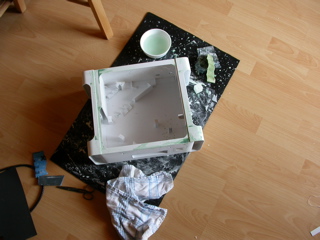 After that I gave it to a friend who painted it with a 2 component pure white Polyurethane paint.
After some days I got it back and that's how it looked like: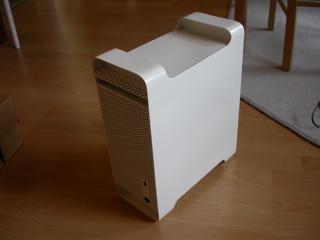 Then I put all the parts together.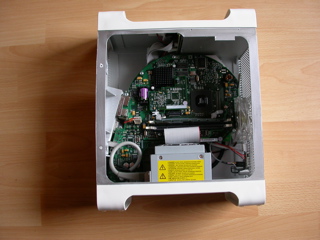 The only thing thats still missing is a chrome Apple on both sides.
And here we are!
An iMac G5:
To show the size I put it beside a G4/400.
Its very small and light.
Why don't we get such a machine from Apple??????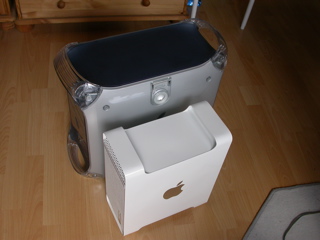 And that's me on our April MUG (Mac User Group) meeting.
What else to say?
I really enjoyed to built this machine. It's very cool to make such things with your own hands!
My iMac is still in use. That the Modem doesn't work doesn't bother me. It's Ethernet still works...
Thanks for visiting me here!!! I hope you enjoyed this little adventure...