Hello,
a couple of weeks ago I took my Apple ][+ out of the closet and decided to give it a go after a lot of years I left it sitting on a shelf.
It's a machine I bought personally in New York in november 1980.
I immediately experienced operating problems like cpu freeze, disk read errors etc. so I started reading around and I've seen that almost 100% of the machines experience power supply capacitors fault due to aging of the components themselves.
I then decided to replace all the power supply capacitors with the highest grade components I found concerning maximum operating temperature and a higher voltage since that (high temperature) seems to be one of the main problems affecting those power supplies.
Here are the RS-Components codes for the parts:
Capacitor Al Radial CS series 350V 47uF RS 715-2271
Capacitor Al Radial BT 25V 330uF RS 762-1685
Capacitor Al Radial BT 25V 1000uF RS 762-1698
Capacitor Al Radial GPA Series 35V 680uF RS 814-3192
Before ordering check your power supply and if you are on a budget you can always use standard components, it will work fine.
NOTE: pay attention at caps polarity when you desolder the old components because the markings on my power supply PCB ("+" signs) were half wrong!
If you don't pay attention to it you'll solder the new parts with inverted polarity!
While reading around I noticed that another concern of Apple ][ owners is power supply wattage and total power consumption against a fully loaded Apple ][, so I checked out if this can really be an issue or not.
The Apple ][+ power supply is rated 60 Watts continuous and 80 Watts peak so I measured power consumption in two configurations: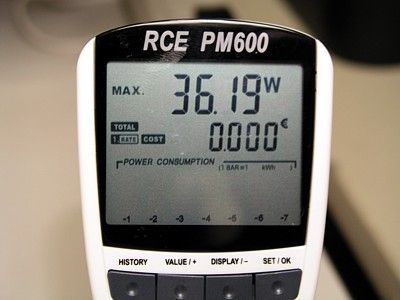 This seems NOT to be a real concern but we're measuring just the total power consumption.
There might be accessory cards combinations that could potentially draw less than the total continuous power supply wattage but that draw too much from one of the single power supply lines (+5V,12V,-5V,-12V), so, mine, is just an indication.
Cheers