Hi All.
So I'm finalizing details on my Mimeo case design, and it's making me think a lot about what I want to incorporate into this case. One of the things I really like having is the option of using Mike W's PS/2 keyboard adapter, with the additional option of plugging in a serial cable and sending over a file via the data link. I definitely plan on having an Apple II keyboard as the primary keyboard, but wanted an elegant way of selecting between the Apple II keyboard and the PS/2 keyboard adapter. So I could just unplug the keyboard plug from the Mimeo when I want to do this, and truthfully I probably won't be doing this hardly at all, but I felt like I just wanted the option to flick a switch and choose input devices. Plus, I get a bit uncomfortable plugging and unplugging these 16-pin DIP plugs, since you can easily roll the plug when pulling it out and bend all the pins - plus you're putting strain on the motherboard.
So I went looking around and thinking about this. What I was basically looking for was a 16-pole-2-throw mechanical switch - not a common thing! I searched eBay and found a couple of options for this, mainly from old Soviet stock or similar. So I started thinking about other options. So what common device of yesteryear allowed you to switch between multiple devices with lots of pins? A parallel printer switch box! I looked on eBay and found a new-old-stock switch box in perfect condition for less than $10 delivered. So I took the plunge and ordered it.
I got is very quickly from the excellent seller, and opened it up and it's a large rotary switch with tons of wire connections. So I studied it and it looks pretty interesting. The pins are in logical groups of 3 in a row, with 3 pins adjacent to each other connecting to Device A, output device, and then Device B in that sequence. This makes sense - the switch mechanism just needs to shift connections over by one radially with a turn of the dial.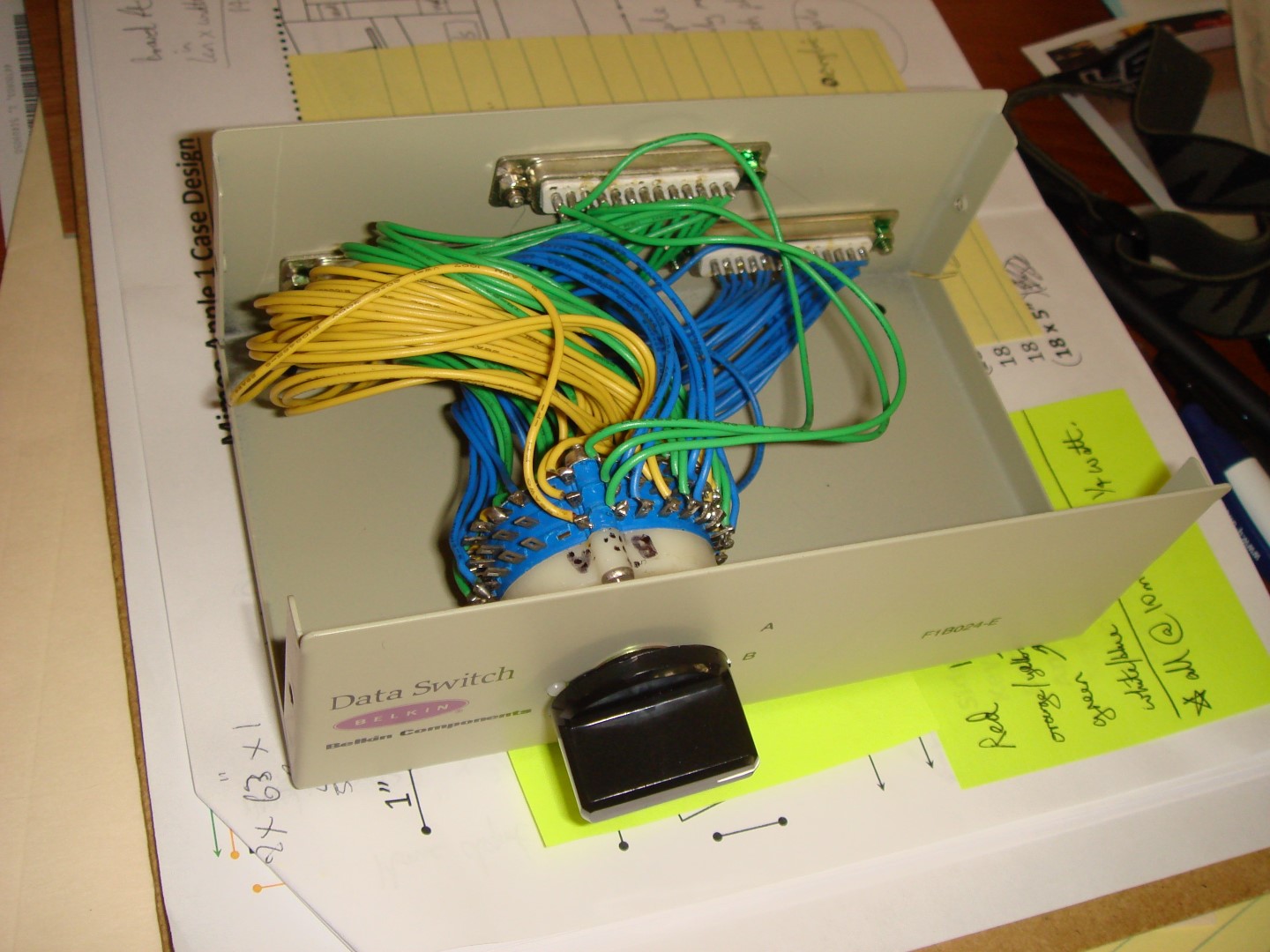 So I hacked into all the wires, desoldered them, rigged up a generic PCB with connectors. I made the cable leading to the PS/2 adapter short as possible, due to Mike W's warnings about the length of cable possibly compromising the power delivery to the adapter.
Soldering this monster was a bit of an ordeal, and it's really complicated due to the changing patterns of pin numbering from DIP sockets, to IEC connectors, to the barrel of the rotary switch with its groups of 3 pins which are unlabelled. I checked and rechecked and rechecked again all the connections when I was done, and it all seemed to be connected just right. I was very nervous about plugging it in and testing it. The output and the connection to the Apple II keyboard I sent to the PCB with the 2 DIP-16 sockets. Because I was planning on putting the switch physically near the PS/2 adapter, I simply connected this connection directly to an IEC DIP socket, which is plugged into a small strip of styrofoam sitting in the switch box in the following picture.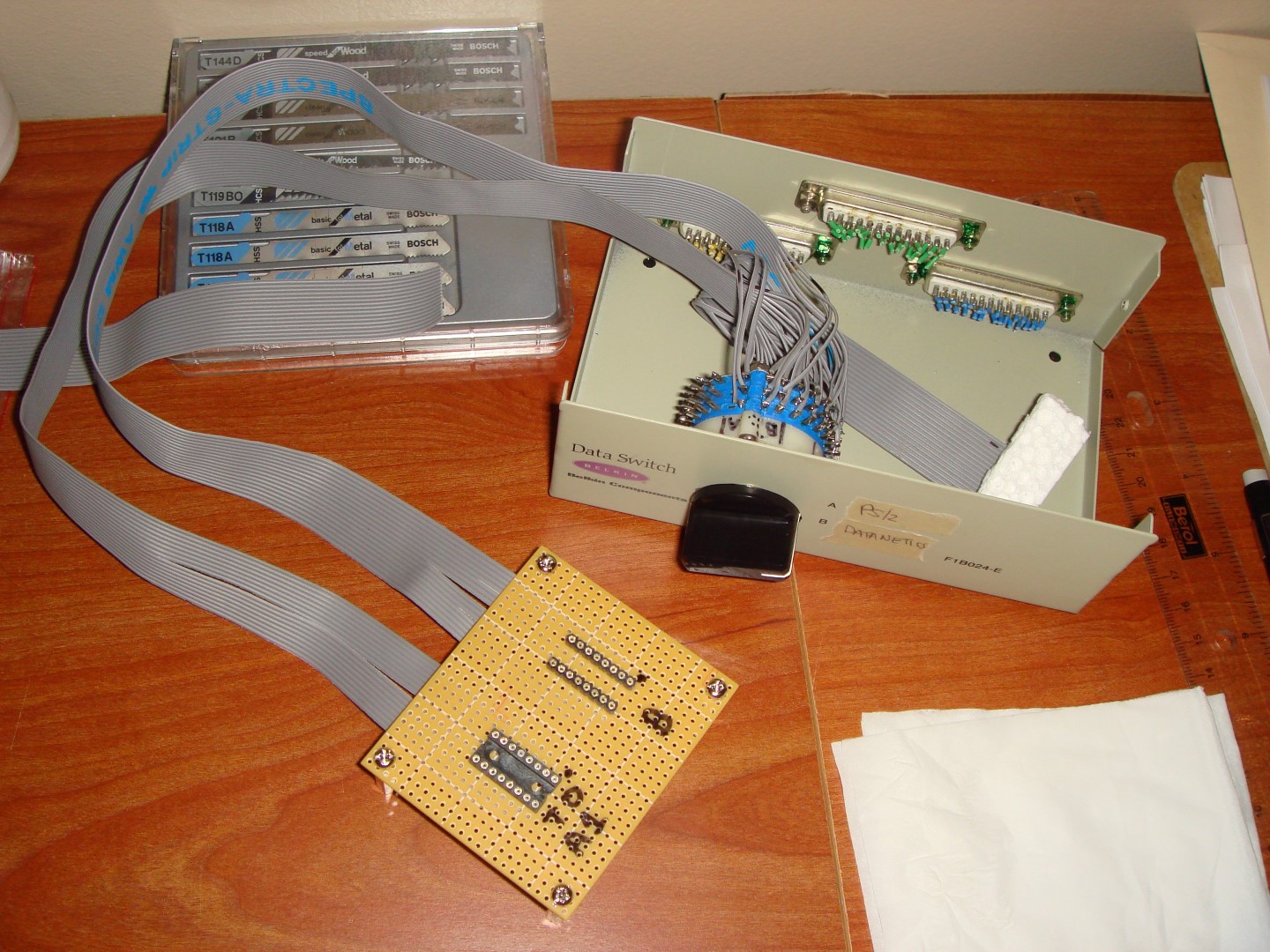 The result? It works! I can switch one way and have the Apple II keyboard connected and works great. Then I turn off, and switch the other way, and the PS/2 adapter is connected and working (no issues with the PS/2 keyboard adapter working or power issues). The total length of cable path for the PS/2 adapter is probably about 20-24 inches. I can probably shorten that if needed, and was ready to do this if I ran into problems, but so far it's working fine. I plan on putting the selector switch in the back of my case, and have the PCB for this underneath the Mimeo motherboard platform so it all will be hidden from view. I will put the PS/2 adapter in the back of the case with ports pointing out the back, so again, hidden from view.
Switch working on the Apple II keyboard:

Switch working on the PS/2 keyboard (PS/2 adapter is waay in the back behind the switch box):

So I just wanted to put this out there. Maybe someone else is out there is wondering about this, and maybe this will give them a potential solution. Comments and thoughts always welcome!