BeOS: A Retrospective
Submitted by
orchard
on May 27, 2004 - 8:56am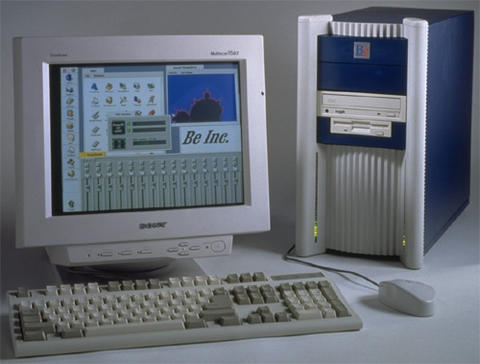 BeOS was the brainchild of former Apple executive, Jean Louis Gasse, who founded Be Inc. in late 1990. BeOS was originally intended to be a continuation of Jaguar (an early RISC prototype) at Apple. It was to run on the BeBox, a machine with four AT&T Hobbit processors. The Hobbit was discontinued, and left Be in shambles. The engineers scrambled to create a new platform for the OS to run on, and eventually they found the PowerPC.
BeOS and the new BeBox debuted at the Agenda 95 conference in the fall of 1995 to critical acclaim. The demo was so successful that Be got the biggest investment it ever received, a check for $4 million from David Marquadt.
Nonetheless, Be was mounting serious debt, and was forced to discontinue its hardware line. Yet again without a platform, the Be engineers ported BeOS to the PowerMac. BeOS continued investing a large portion of their talents and energies into BeOS for the PowerMac, hoping to be acquired by Apple, but in December 1996 Apple announced it would acquire NeXT and make OpenStep the basis of its next generation operating system.
Be then set about porting their operating system for the third time to the Pentium. Despite these efforts, Be was never successful and eventually sold its assets to Palm, where Gasse is now a board member).
Interface Basics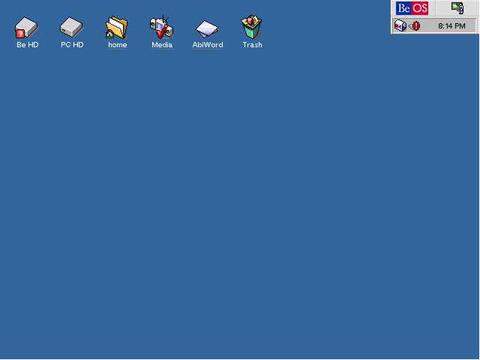 BeOS has an intuitive and elegant interface. Located in the top right corner, the Deskbar is the equivalent of the Dock in Mac OS X. It displays all of the running apps, and allows users to change their settings. Across the top of the display, there are icons for all of the drives mounted on the system (note the Mac OS inspired look), shortcuts and the trash can.
Much like GNU Linux, and other platforms, BeOS uses workspaces. Workspaces are like virtual screens running on the system. For example, I am surfing the net on Screen 1, writing this document on Screen 2, reading the forums on Screen 3, and browsing my email on Screen 4.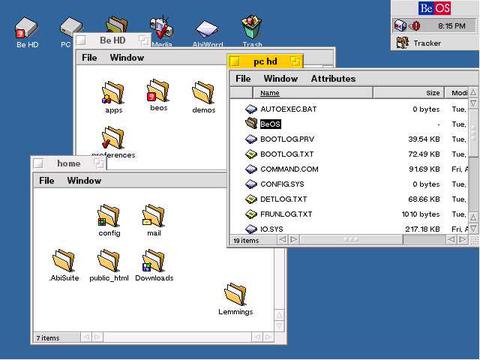 Be is unusual in the way it draws its windows. Instead of having title bars that span the entire width of the window, the title bars in BeOS are only large enough for the tile of the window, the close button, and resize button. To hide these window, you double click them with your middle mouse button.
Apps
BeOS comes bundled with a handful of applications. The most useful of these are the mail client and web browser. The web browser, NetPositive, is remarkable, but aging. It does just about everything, except for JavaScript, and Flash, and it renders sites almost instantly. It loads AppleFritter forums in slightly less than 2 seconds on my cable connection. One of the interesting features of NetPostive is its error messages. The 404 Error messages are written in haiku.
The mail app is much like Nisus Email in the way it stores emails. Instead of a custom application, it treats the inbox as a special folder on the hard drive. Otherwise the app is not that remarkable.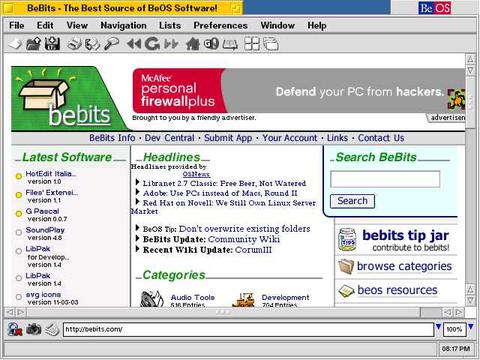 Despite its small user base, BeOS has many third party applications written for it, many of them free. Likely, the most popular third party software is Bezilla and Opera, two web browsers ported to BeOS. I personally prefer Opera, but for those of you who need to view complex sites, try Mozilla.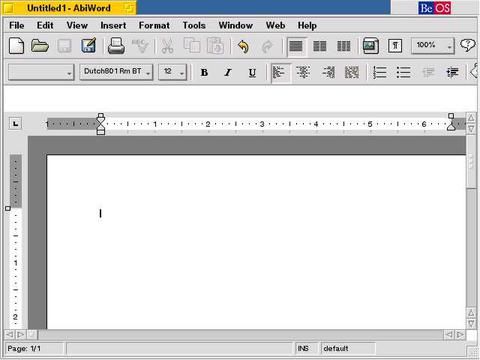 My favorite free word processor is AbiWord, a port of the famous KDE word processor. It supports older Microsoft Office files, is capable of reading and writing HTML, and can export to PDF. If you need a serious word processor, try GoBE's BeProductive Suite. It was designed by the same engineers who worked on ClarisWorks.
Weird Stuff
Here are some screen shots of BeOS being weird.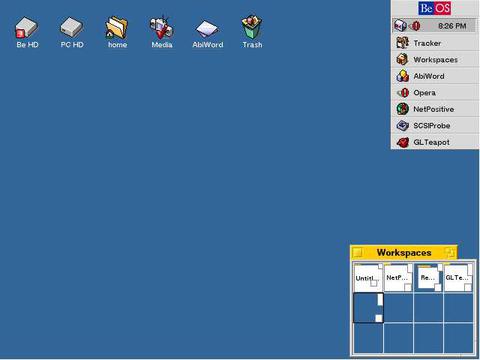 BeOS has Workspaces, just like Linux. Though I only have twelve, you can use up to 32.
Where can I get Be OS?
BeOS personal edition is offered as a free download for Windows and Linux x86. If you are using a PCI PowerMac, try to find a copy on eBay. BeOS does not support NuBus, 52xx, or anything G3 and up.