So here's an update, for anyone out there following my progress.
I sent off my bad parts, and recently received my replacements for my bad 2504v's. They were 2504N's, so I checked online for a datasheet, and they seem to be just the same.
So I threw them in my Mimeo, and anxiously started it up. It seemed to work and I got a nice screen of underscores and flashing @'s.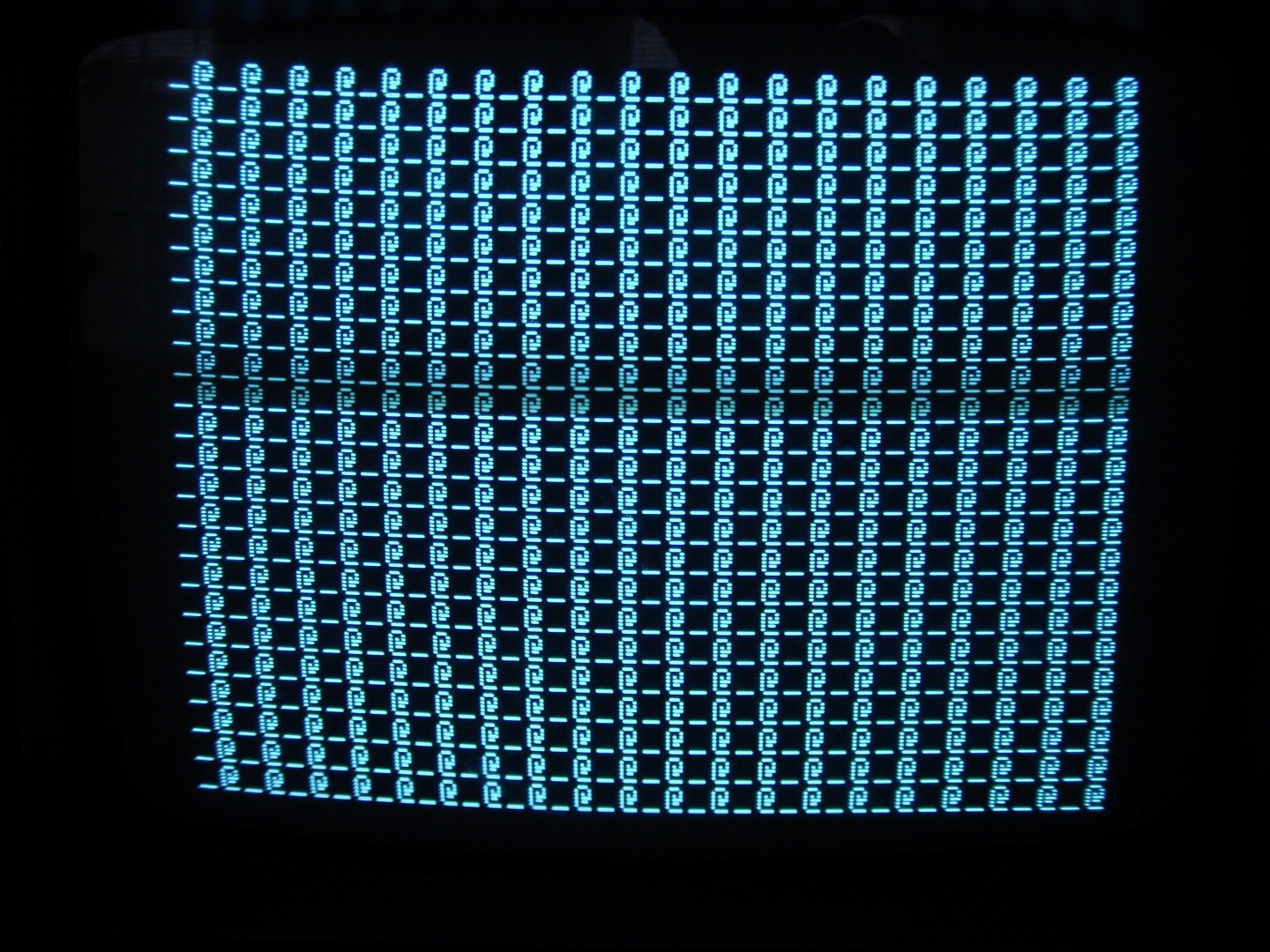 So I excitedly turned off, and plugged all my processor side of the chips, including just the first bank of memory chips. I soldered my motherboard jumpers as recommended in the bringup manual. I had already completed my PS2-keyboard adapter, and plugged it in as well (first time).
I turned on, and still saw the correct start-up screen. I cleared-screen (CTRL C-L-R, which is pretty cool), and it went black with a flashing @ in the corner as expected. I reset the Mimeo, and got a prompt.
I typed and it seemed to work - at first. I was so overjoyed that the PS2 keyboard adapter worked, but then I noticed that not all the characters were correct.
I came back to Earth, and studied what I was seeing.
Basically I found that some of the characters worked, but then some of them would alternate between two letters if pressed repeatedly. For instance, if I pressed "A" repeatedly, it worked fine - printed a string of A's. Then, if I typed "L", it would alternate between "L" and "D", so if I pressed "L" repeatedly, it would print "LDLDLDLDLD" and so on.
Here are the keys I saw this on:
A-ok, B-ok, C-ok, D-ok, E-ok, F-ok, G-ok
H-> switches between H and @
I-> switches between I and A
J->J/B
K->K/C
L->L/D
M->M/E
N->N/F
O->O/G
P-ok, Q-ok, R-ok, S-ok, T-ok, U-ok, V-ok, W-ok
X->X/P
Y->Y/Q
Z->Z/R
So this seems quite odd. I looked at the character code mappings, and noticed the alternating characters are flipping bit 4. So "Y" is code 100110, and "Q" is 100010. Notice also, that bit 4 only flips when it is on a character where bit 4 is supposed to be a 1. So in this example, when I hit "Y" repeatedly, it prints "YQYQYQYQYQYQYQ". When I hit "Q" repeatedly, it prints "QQQQQQQQQQQQQ". So it's only flipping this bit in this situation!
So I have my theory, now what? I need to confirm if it follows the bad chip, so bit 4 is provided by the 2504 chip in D4B. So I switch everything off, and switch D4B with D4A. I switch on again, and guess what? Now all the flipped bits are in bit 3, and they only happen when the character to be printed has a 1 in bit 3. So the new results are:
A-ok, B-ok, C-ok
D->D/@
E->E/A
F->F/B
G->G/C
H-ok, I-ok, J-ok, K-ok
L->L/H
M->M/I
N->N/J and so on ...
So I think I've found another bad 2504 chip. It's frustrating that this problem didn't show itself in the startup screen, and only reveals itself in this situation. Now I've got to send this chip back and wait another week or more for the new part to come in. I seem to remember someone suggesting I get extra 2504's in an earlier post, but I tried coordinating this, but each email back to the supplier meant a delay of a day or two, and I figured coordinating getting extra chips with the replacement of the bad ones was too time-consuming, and I guess I was hopeful I wouldn't find any more bad 2504's.
So now I think I have my problem narrowed down. I begin to play with the monitor. I display memory locations, and fiddle about with putting data into the memory locations. It seems to work, but it's really confusing because everything on the screen has alternating flipped characters according to the above scheme! I've been aching to try this Mimeo out, though, so I poke around, and it seems like the correct data is finding its way into the memory, and the instructions are working correctly, despite the flipped display characters.
So to test this, I enter a "Hello World" program. Here's the program I entered:
280:A2 C BD 8B 2 20 EF FF CA D0 F7 60 8D C4 CC D2 CF D7 A0 CF CC CC C5 C8
So what is the result? Look at this!
It works!!!! So everything I'm typing is being recognized by the Mimeo correctly, even though the display of it is messed up. Notice the weird display flipping characters, and the effect on the program output and the listing of the memory dump! It is consistent, though.
So now a waiting game, and on to the next stage!