Hi guys!
So I just put together my early Rev 0 and wanted to share...
I got the system with original toggle power supply, early light green expansion slot motherboard from a seller who found it at a garage sale and paid a very small price (lucky dog) who then sold it on ebay. I was fortunate enough to be one of the first folks to see it and make an offer which the seller accepted far below his asking price. (He still made a substantial profit)
The only problems with it was that the power supply was non-functional and it had a later style keyboard. So off on the hunt I went and about 2 months later, I found another auction on ebay for a Rev 2 (or Rev 3) Apple II which had for some unexplained reason the early style keyboard that my Apple II needed.
I was successful in purchasing this one and have cleaned up the keyboard and case, and now have a "correct" early Rev 0 Apple II which is my prized possession.
I also had the correct motherboard for the second Apple II I bought, so it is now correct as well and after I've gone through it and cleaned it up and verified it works 100% will be selling on ebay to any interested party.
Here's my new pride and joy:
Early keyboard, all cleaned up: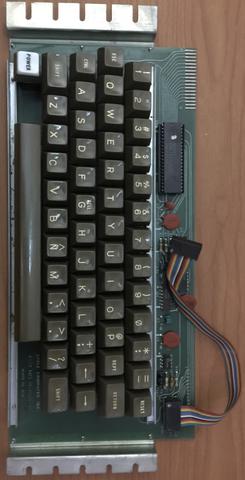 Keyboard installed into case: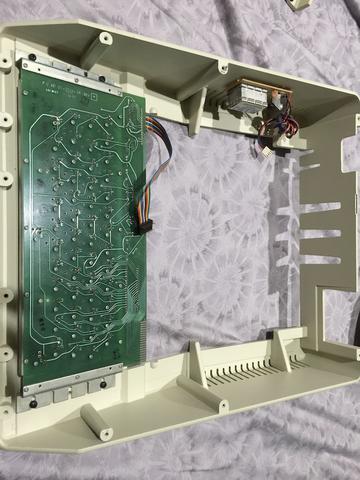 Motherboard and Power supply:
And all assembled: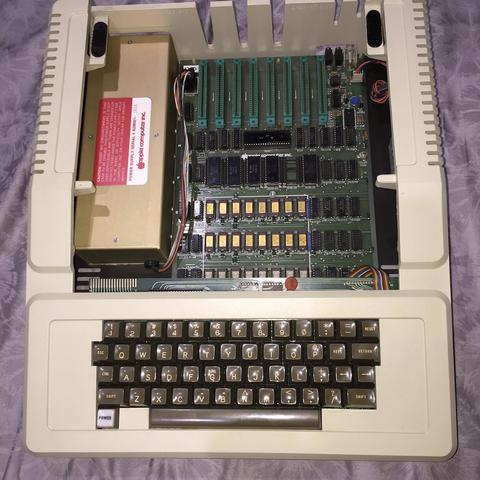 Although I would dearly love to have a ventless, I think that is beyond my means for right now - plus I have to recoup some of the $$ I spent getting this one together before I consider buying anything else.
Jennifer