Seiko Datagraph UC-2001
Submitted by
Tom Owad
on February 14, 2004 - 9:17pm
New In Box Seiko Datagraph UC-2001

$
Includes:


Box
UC-2001 Watch
UC-2301 Interface Box
Manual
Cable
Screwdriver
Backup of Time Trax II disk
Backup of Clock Utility disk
Original batteries (no longer good)
Original disks are missing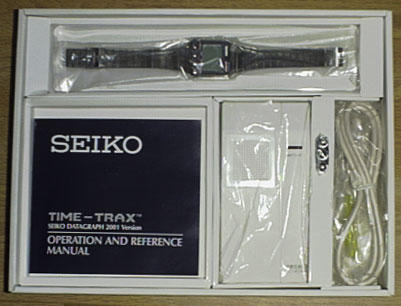 All Seiko Datagraphs come with a 30-day warranty. Shipping within the U.S. is $5. Shipping for each additional Datagraph is $3. Shipping to Canada is $20; Shipping to Europe or Japan is $25. Shipping elseware is $5 handling plus estimated shipping costs. Insurance is recommended on international orders. Payment may be made via PayPal or U.S. Money Order.
To purchase a Datagraph, email with your order.
If you have technical questions about the Datagraph, please ask on Applefritter Forums.