I thought I would share some of the infrastructure I have set up to have my macs communicate with each other. Almost all of the Mac's you can see in my signature are able to access each other files. In a video I show how my 512Ke and Power Macintosh 8600 can access a file server on my iMac G4 using a LocalTalk network, bridged to ethernet, ridged to WiFi.
I currently use:
x3 Apple LocalTalk Adapter + Cables

x1 D-Link Ethernet Switch

x1 Assanté LocalTalk-Ethernet Adapter

x1 Apple Airport Snow

x1 Apple Airport Express (2nd Gen)

Various Ethernet Cables

Here is a video where I very briefly demonstrate some of this equipment in action:
(The video embedder doesn't seem to work on this site)
The 512Ke and Classic II are connected via LocalTalk, the Power Macintosh 8600 is connected via Ethernet and the iMac G4 is connected via WiFi. Yet, everything can communicate flawlessly.
Assanté 'AssantéTalk' LocalTalk- Ethernet Adapter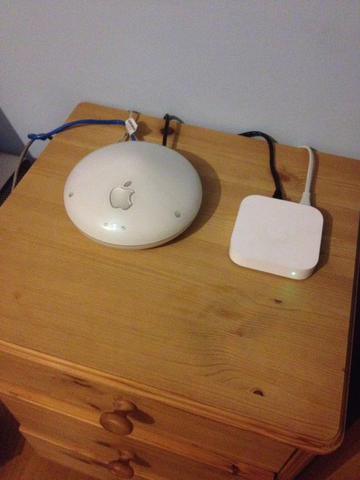 Apple Airport Snow and Airport Express
The AppleShare server list of my 512Ke, with the connected servers also visible on the desktop.
----------------------------------------------------------------------------------------------------------------------------
I think I will upload some more videos later and make a whole channel out of it. I have achieved quite a few interesting feats with all this stuff, especially forwarding the 512K and it's HD20 over FTP onto the internet. I'll post more over christmas!