The Green Apple IIe
Submitted by
Craig MX
on August 14, 2004 - 9:44am
I present to you my Green Apple IIe.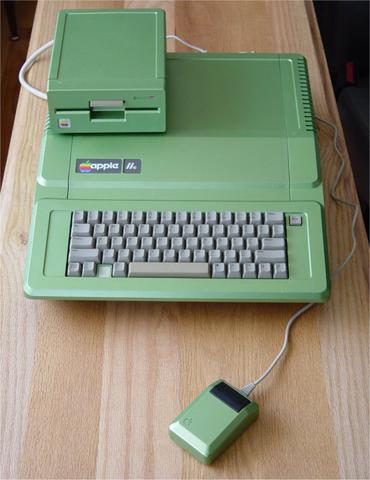 No it's not some ultra rare original Prototype model or anything. It's just an old '82 Rev B Apple IIe I had kicking around and wanted to spruce up a little bit.
Underhood, we find the standard issue assortment of cards:
- 64k/80 Col. card,
- 5.25" Disk controller card,
- Super Serial II card,
- Serial Mouse interface card
Really easy to do if you're in the mood.
Recipe instructions:
- Disassemble the Apple II, the Disk Drive, and the Mouse,
- Thoroughly clean the parts with dish soap and water,
- Rinse well and either towel dry or air dry,
- Shoot the appropriate parts with Plastic primer
- Let it dry!
- Spray your choice of color on the primer.
- Let it dry!
- Reassembly is reverse of disassembly!
- Voila
Enjoy!
Later,
Craig